Dec, 04, 2018
Comments Off

on Help for the Holidays…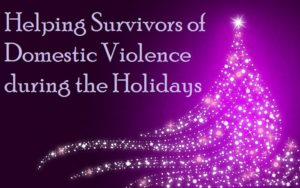 This year, as you drape the twinkling lights and hang your stockings from the mantel, take into consideration that not everyone honors a season of peace, love, and tranquility. Unfortunately, the holidays can be an even more dangerous time than normal for those at risk for domestic violence. From the financial burdens of gift buying to an overall increase in alcohol consumption, to a flurry of emotions—and sometimes stress—that accompany a plethora of family togetherness time, there are many reasons why the chance of intimate partner violence can increase during the holidays.
Although statistics of actual incoming calls on the day of a holiday may not resemble this theory, survivors themselves can attest that danger heightens and fear emanates. Most victims of abuse will dread the holiday season as it approaches versus embrace this joyous time of year.
"When the holiday time would come, I would cringe with just the thought of asking my husband to spend money on gifts or attend a family function. I would hope for the best, but the outcome would always be the same…terror and anxiety. Christmas was never a good day in our house." ~Brooklyn
Whether survivors do not want to disturb family cohesiveness on these days, or lack private time to make a call for support, the decline in calls is not necessarily an indication that violence ceases on these days. The majority of agencies such as ours would more than likely agree that calls will often increase above normal levels the days and weeks immediately following a holiday. Many times survivors of abuse do not want to disturb family traditions or separate children from their family during a holiday, regardless of abuse that may be occurring.
"I was praying that the holidays would brighten my boyfriend's mood, bring new light to our relationship, make him happy because it surely seemed like nothing I did worked. I bought him something very special to show how much he meant to me. He thanked me by giving me a broken nose. I made the decision that day to leave as soon as I could. It was two days before he left me alone and I could make the call…I reached out, got help and never looked back. I encourage anyone in that situation to do the same. It's not worth your life." ~ Tessa
What can you do? If you are currently with an abusive partner, reach out to us. We are here, 24/7 ~ 365 days a year. And, remember, you do not need to figure out an escape plan right away—you can simply call to talk. We are here to help every step of the way or to just listen. If you are unable to call safely from home, call from a trusted friend's house, your doctor's office or a public library.
If you suspect someone close to you is the victim of an abusive partner, watch for signs such as possessiveness, rigid gender roles, and financial control. Abuse is not always physical, often there are no visible bruises left behind but internal emotional struggles will exist. To support a victim be non-judgmental and supportive. Listen to them, trust them and empower them. Our crisis line is also available for those looking for advice on how to help a friend, family, or neighbor. If you are unsure what to do or how to help give us a call! We are always available: 269-673-8700