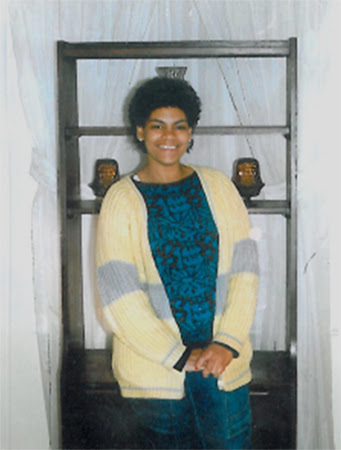 Sylvia Allen was born on May 27, 1960, the daughter of an Allegan county resident, the middle child of nine. She later had five children of her own: LaTanya, Katy, Althella, Termaine, and Kira; like every mother, she wanted to provide a good life for them. 
After her mother died, Sylvia moved to Pullman, Michigan to be closer to her father, and found a big house that could accommodate her five children. She had a dream of buying that house for her family. The landlord, who was reluctant to rent to a family with so many children, became pleased with the quality maintenance of Sylvia's home. People commented that she was a meticulous housekeeper: "You would never have known five children lived there; it was so tidy!"

After living in Michigan about a year, Sylvia met and started dating a young man. As the relationship developed he became more controlling and possessive of her. Over time it escalated to physical violence and beatings. Sylvia told only a few people about her situation; shame silences victims of domestic violence. But she knew she had to take the steps necessary to regain her life. Sylvia wanted to get out.
She took advantage of nearby opportunities and pursued a GED through the Adult Education Program at Pearl School. Sylvia was an eager and bright student; she graduated in the late winter of 1988 at the top of her class and started making plans to go to college. Sylvia was full of hope. She had a mission. Along with getting an education, Sylvia learned how to drive and received her driver's license. She was going places.
Her new-found independence and self-esteem threatened her boyfriend; he was losing control of her. Their relationship reached a crisis point when Sylvia learned of the pregnancy of a 16 year-old girl -- her boyfriend was the father. Sylvia fought to break off the relationship and refused to see him. However, he soon retaliated. On the night of January 20, 1989, Sylvia's boyfriend kidnapped her and held her hostage in a wooded field near her home throughout the night. By early morning, Sylvia had convinced him to allow her to return home. After escaping from him, she went to her father's house and called the Michigan State Police, but they were unable to fine him.
On January 21, Sylvia and her father began the large task of moving her possessions out of her home. Everyone was scurrying about packing, when the telephone rang, Sylvia answered it and as she spoke, a gunshot blast went off. Her boyfriend shot her in the temple; he had hidden in the house waiting for her to return. Sylvia was pronounced dead on arrival at Allegan General Hospital, a victim of domestic violence. She was 28 years old. 
This is why Sylvia's Place exists.